Welcome to the Inn on Water Street in Marine City, Michigan
The Inn on Water Street is a contemporary, quaint and intimate boutique hotel, located in Marine City with a beautiful view of the St. Clair River. Our guests enjoy our modern farmhouse décor with contemporary amenities. During your stay, enjoy a show at the Riverbank Theatre, or The Snug, that is just down the street. After, savor every bite with a meal and a crafted cocktail at our casual, fine dining restaurant, The Inn Kitchen – Farmhouse Bistro & Lounge. You can also enjoy a quiet stroll in our small town, which has many unique shops. If you would rather stay in, sip on a glass of wine right from your balcony, as you watch a freighter go by. Don't worry if you a pet at home, bring them along, we would love to have them! Stay for a night, or stay for a weekend, either way, the Inn on Water Street will be sure to suit your needs with our warm, comfy atmosphere and friendly service.
Farm to Fork Cuisine with a French Flair
The Inn Kitchen - Farmhouse Bistro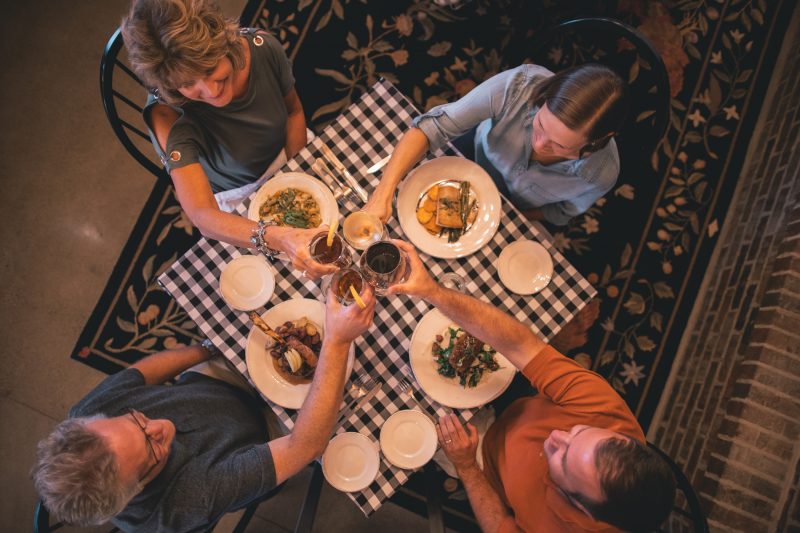 The Inn Kitchen is a culinary innovation rooted in fresh ingredients from Michigan farms. Your taste buds will be surprised and delighted as you savor a farm to fork meal with a French flair. Chef Max meets with local farmers and seeks out natural ingredients to produce your new favorite meals. Our constantly evolving, seasonal menus will keep you coming back for more.

Reservations recommended. We host private events, so check ahead.
810-676-5200
An oasis of serenity and a personal retreat
A Room With A View
The Rooms
The guest rooms were designed to feel more like home with a unique floor plan, and with cleanliness in mind so that each guest can feel like the first to enjoy the space. And, oh that bed! You'll feel like you're sleeping on a cloud.
Virtual Tours
Take a Virtual Tour before your stay and get a glimpse into the different accommodations and hotel features! Visit the Rooms page, choose a room, & take a tour!
The View
Over two-thirds of our rooms have fantastic views of the St. Clair River; most with private balconies for lounging in the fresh air, and watching the steady show of boats and nature drifting by.
Pet Friendly
We love our pets and hate to leave them behind so we created a pet-friendly Inn with easy to clean surfaces so all traces of Fido can be easily swept away post-visit. It's a great town for walking with pets and enjoying the mix of small town and nature.
What People Are Saying
Testimonials
You are drawn in by the charm and the amazing staff makes you want to stay forever! The rooms are so cozy, the design so chic. The GM seemed to be always working and made contact with each guest several times a day to make sure all needs were met. The rooms, common areas and restaurant were spotlessly clean. The restaurant was awesome. This weekend was my brother and I and he is a "healthy" eater but he couldn't resist dessert because the food was so good. We loved the ambiance in the bar and restaurant. The breakfast was an unexpected treat and was really good. I can't wait to come back for a girls friends weekend with a show. Oh - did I mention fresh chocolate cookies with milk in your room? Just sayin', it's those little touches that make a place great.
Beach1321 From Trip Advisor
We purchased the dine/stay/play package. ($280. Includes $50 dining credit). All aspects of our stay was fantastic. Our room (13) was clean, cute, well laid out, and the balcony made for a great view. Our meal was delicious (I got the tenderloin and my wife got the pistachio encrusted mahi-mahi. The total came to $85 and that included a bottle of wine. The $50 credit went a long ways towards the bill). The play (Escanaba in da moonlight) was fantastic. This was a great getaway for our anniversary weekend. We would definitely come back or send someone else here for a getaway
Matt M.
The rooms are very elegant!! The staff was very nice and the rooms were clean. The game room, though doesn't contain games, is a nice place to hang out and look out the old WWII ship binoculars. The lights in the room are a little weird as you use your room key to activate the lights. The best part was the complimentary chocolate chip cookies and milk in our room.
Drewby
Absolutely wonderful place to stay! Very clean and super comfortable (especially the special beds and pillows). Every aspect of our stay was pleasant. We got a room with a view and it was beautiful! The lounge upstairs has a neat viewing area too, which we loved. The room is perfectly clean, with well organized space. The staff was very friendly and responsive. They answered all of our questions, answered our calls or called us back when needed. The breakfast was good too, it felt like eating a nice breakfast at home. Would love to visit again!
Savanna
Very nice, upscale new restaurant. Unique and eclectic menu. I ordered "the max" sandwich for lunch. It was very unique, never had anything like it and it was terrific! The restaurant is very clean and well kept. I cannot wait to take my wife there for dinner.
Rob - from Trip Advisor
Gallery
Dream of Your Next Waterfront Weekend Getaway
Let our friendly and courteous staff treat you to a first class experience.
Absolutely wonderful place to stay!
Very clean and super comfortable (especially the special beds and pillows). Every aspect of our stay was pleasant - Savanna
Ready for a memorable stay?
Questions?
Contact the Inn on Water Street